You will not be admitted to the test unless you have made a booking and a payment. You must have the items listed in the checklist below.
Test day checklist
You must take these items to the test:
Test Fee Payment Receipt
Approved Photo Identification
Printed Admission Ticket
2 Pencils and an eraser
Test Centres
Expect to be at the test venue around 3 hrs (or longer). Time is needed to check-in all applicants, for pre-test procedures, instructions, distribution, collection and checking of test materials, and actual test time.
You must remain in the test room for the full 2-hours and 10 minutes assigned for the exam.
No applicants will be allowed to leave early.
Rules and code of conduct
All applicants must follow the rules of conduct while at and in the Test Centre.Read the test centre rules.
COVID-19 and illness
If you are unwell or if conditions in the test room impact your ability to perform in the test, please tell the Supervisor as soon as possible Issues must be dealt with immediately at the time of the test. Results will not be adjusted for any perceived test day difficulties. You will not be allowed extra time if you leave the room due to illness.
You can find your admission ticket in your ACER Account.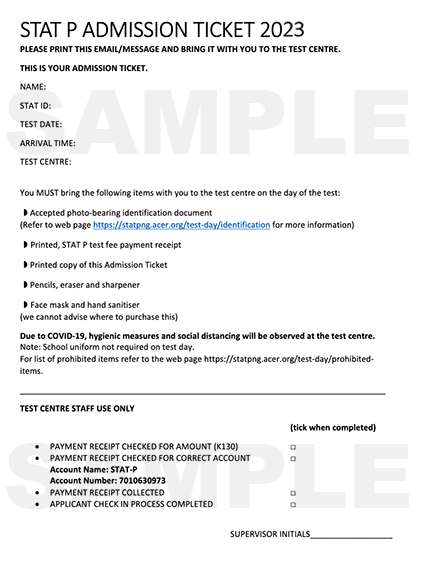 Please print your admission ticket if you can. If you cannot print it, bring an electronic version and the supervisors will write one for you at the test centre
You must bring one of the following photo identification documents (ID) with you to the test.
The only types of accepted ID are:
Secondary student photo ID card
Tertiary student photo ID card
Workplace photo ID card
other official photo ID card (such as Church ID or proof of age card)
Drivers licence
Passport
National Identity Document (PNG NID)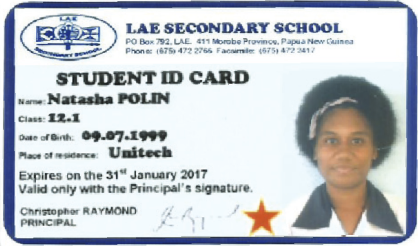 Identification document requirements:
be one of the accepted types shown opposite
must have been issued within the last 5 years
show your full name
your name must match the name on your booking
show a recent embedded photo
show your signature or a validity date or date of issue
Identity documents that do not meet the ID document requirements will not be accepted and you will not be able to sit the exam.
Personal ID's will NOT be accepted.
The following items are not allowed:
calculator or dictionary
mobile phone or other communication devices
audio or recording devices, or earphones
books, papers, bags
food
weapons, or objects that could harm others
Water bottles are permitted.
Belongings may be left in your bag at the side of the test room.
Eating and smoking are NOT allowed during the test sessions, or in the test room.
Hats and caps are NOT to be worn during the test, or while in the test room.
Mobile phones MUST be switched off during the test.